Why Be a Bartender in Cleveland?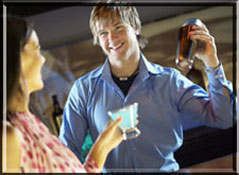 Why be a bartender?
Good pay. Great fun. Flexible hours. Jobs waiting for you NOW!
Bartending is more than a job. It's a respected profession offering serious hourly pay, mega tips, big-time benefits and more. That's why hundreds have left traditional careers to "join the party" and celebrate a whole new way to make a living.
Score big-time pay—and major perks!
Earn more than most entry-level college grads – easily $100-$200 a day—without the expensive education and long hours. Plus, you'll find that larger venues offer full benefits, and major hotels or airlines dish out extra perks like low-cost lodging and airfare.
Work where you like!
Choose a place that fits your personality. A good bartender can work anywhere in the country, or the world—from an elegant hotel, resort or country club to a friendly neighborhood bar, or high-energy nightspot.
Tailor the job to you!
Work full- or part-time—around school, family or another job. Make bartending a profitable second career. Supplement seasonal or weather-dependent jobs, like construction. Or add fun and extra income to your retirement.
Forget the recession!
When the economy's down, people slash spending on big-ticket items. But bars and nightclubs actually thrive in tough times! Plus, bartending is the perfect answer for office workers and others hit by corporate furloughs or cut-backs.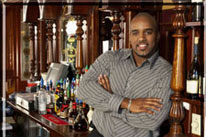 Don't wait another minute!
Become a Professional Mixologist at Cleveland Bartending School.
Call the BARTENDER HOTLINE today at 216-382-1450.


Get the Facts into an Exciting New Career!
FACT:
Northeast Ohio's bar and restaurant scene is alive! And our mixologists are in demand at hotspots like The View, East 4th Street, Tremont and West 6th, plus many others.
FACT:
The Cleveland area needs more than 12,000 bartenders! But incoming casinos will likely offer only 400-odd dealer jobs—most going to those with experience
FACT:
The U.S. Department of Labor rates bartending opportunities as "excellent"—with a 13% increase in job openings expected through 2018.
FACT:
Cleveland Bartending School has been training Professional Mixologists since 1995—with more than 7,000 graduates! And we can help you too!